Monica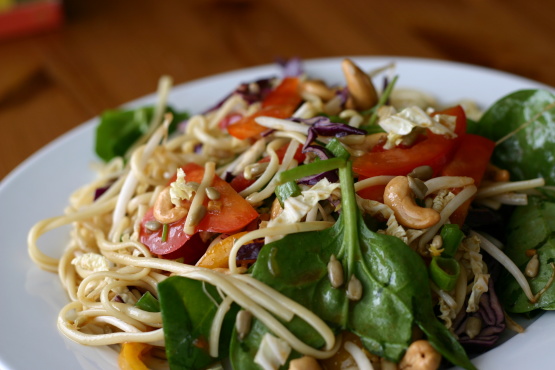 This salad is so amazingly good. I'm totally addicted to it. It looks (and tastes) like something you'd eat in a restaurant. I know, you're thinking spinach with noodles???? But it is SO good. And don't let the long ingredient list scare you. Trust me it's worth the chopping. If I'm making this just for our family, I cut up all my veggies and put them in ziplock baggies. Then I make the dressing and the noodles. I keep all of it in the fridge and just pull it out as much as I want and enjoy the salad 2x in one week! I found it on Pioneer Woman's website (adapted from Jamie Oliver's version) and adapted it to my taste. As a side salad it probably serves more like 8 - 10. But if this is all you're eating then it will serve 4 - 6. It looks like you've got this huge salad and how is it all going to be eaten and then all of a sudden it's gone and people are asking for more!!

Great salad. I used soba noodles and a variety of veggies that I had on hand. Wonderful flavors in the dressing too.
375

g linguine, cooked, rinsed, and cooled (I've used whole wheat and it's good too.)
1⁄2-1 head napa cabbage, sliced
1⁄2-1 head purple cabbage, sliced

150

g Baby Spinach (about 1/2 a bag)

1

red bell pepper, sliced thin

1

yellow bell pepper, sliced thin

1

orange bell pepper, sliced thin

2

cups bean sprouts (or one small bag)

3

green onions, sliced
1⁄4 cup cilantro, you can do as much as you like though
1⁄4 cup sunflower seeds
1⁄2 cup cashew nuts, roasted

DRESSING

1⁄2 cup olive oil

2

tablespoons sesame oil

6

tablespoons soy sauce
1⁄4 cup brown sugar (I've left out the sugar altogether and it's just as yummy, in my opinion)

3

tablespoons fresh ginger, chopped (I've also used the powder, but fresh does taste better)

2

garlic cloves, chopped
Mix together salad ingredients. I don't usually measure, I just keep add as much as I want of each ingredient until it looks like the picture.
Put dressing ingredients in a jar. Shake well and pour over salad. You can also add jalapenos to the dressing if you like it spicy.
Mix with tongs or hands and serve in a large pasta bowl. I always use my hands to mix this. It's so much easier.
As a side salad it probably serves more like 8 - 10. But if this is all you're eating then it will serve 4 - 6.