Prep 20 mins
Cook 20 mins

This sauce is much adapted from a Ming Tsai recipe. It goes well with chicken, pork, vegetables or tofu. I haven't tried it with seafood, but I imagine it would go wonderfully with shrimp (and one reviewer really liked it over salmon).
Directions
Over medium-high heat, sauté onions, garlic, ginger and chile until caramelized.
Deglaze pan with wine. Add cranberries and 1/4 cup of water, and cook until about three fourths of the liquid is absorbed.
Transfer to a processor while warm, so that chocolate will melt. Blend with rest of ingredients, including remaining 3 tablespoons of water, until smooth. Salt and pepper to taste. Serve over meat, tofu, or vegetables.
Reviews
Most Helpful
I'll have to agree with the other two reviewers, this recipe was pleasingly complex. I did not mind the sweetness here myself, though I've made Mexican mole's where I might consider a sweet taste inappropriate. Minor things - I did not have black sesame seeds so I used white (untoasted), and I couldn't find my sliced almonds (though I did find them later, grrr). I put this on top of non-silken tofu, which I grilled in a non-stick skillet until nice and brown. BF enjoyed this too. I used the leftovers on a soy-based "steak." Very good sauce, thanks Maito!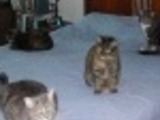 This deserves more than 5 stars. What a great medley of flavors. Very easy to make. I served it with grilled salmon, but looking forward to trying it on chicken or shrimp.

A bit more chocolate than I expected, but still quite good, and super easy to put together. I could have used a bit more heat, which I added in situ with some hot sauce. I did not find it too sweet. I served this over lightly-marinated tempeh.