Bergy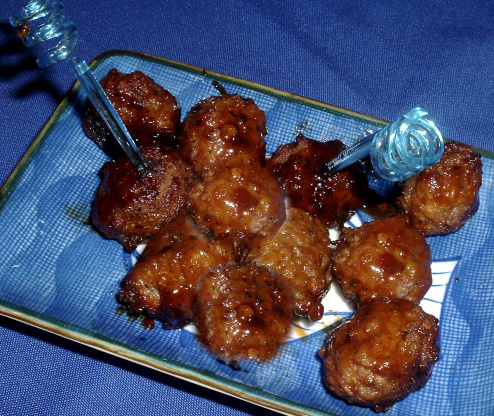 A big hit at our wedding. Meatballs can be formed 1 day ahead and kept in refrigerator uncooked, and then just cooked and served.
Preheat the oven to 400 degrees F.
In a medium bowl, use a fork to combine the pork, sausage, ginger, shallot, water chestnuts, soy sauce and cilantro.
use your hands to form the mixture into 1-inch balls, placing the meatballs into a large roasting pan.
Cook the meatballs for 20-25 minutes, shaking the pan every 5 minutes to rotate the meatballs and brown the sides evenly.
Meanwhile, in a small bowl, whisk the cornstarch with 1 Tablespoon of water and set aside.
When the meatballs are done, remove them from the pan to cool.
Place the roasting pan over medium heat and add the garlic and ginger.
Cook, stirring for 30 seconds.
Add the chicken stock, stirring up any cooked on bits.
Stir in the remaining soy sauce, brown sugar, and chili paste.
Bring the mixture to a boil, then whisk in the cornstarch mixture, and simmer until thickened, about 1 minute.
Pour the warm sauce over the meatballs and toss to coat.
The meatballs may be held in the roasting pan, covered with foil for up to 1 hour (over very very low heat if you want).
Serve with toothpicks.