Peter J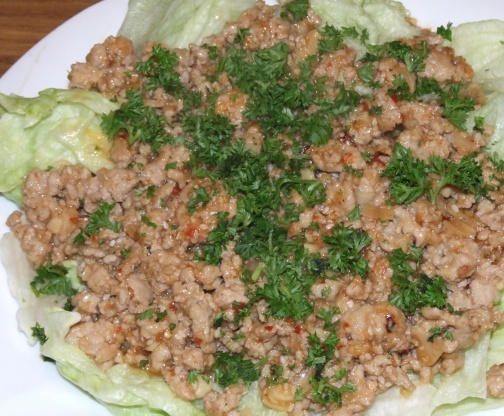 Sweet and spicy. How can you go wrong? I feel these are similar to the ones served at P. F. Changs. This can be served hot or cold. I usually serve this with a cool yogurt and cucumber salad. I use the leftovers on my lunch salad the next day.

Wanted to love this but was a little too sweet for my tastes. Next time I will use straight chili sauce instead of sweet. Loved the texture with the sesame and pine nuts.
Brown the chicken in the oil in large skillet.
Add soy, sweet chili /mae ploy sauce, sesame seeds, pine nuts, rice vinegar, garlic,and ginger.
Cook one minute.
Wrap in lettuce leaves with chopped peanuts and cilantro.