Rita1652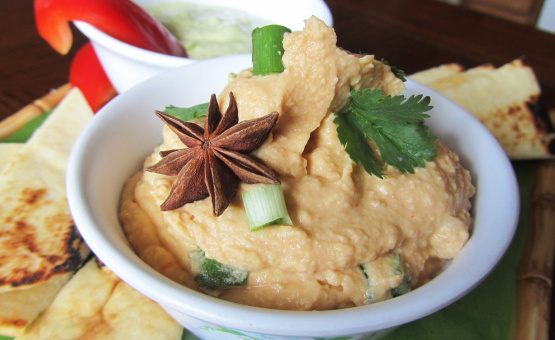 Bon Appetit January 2006. Use canned beans for quicker preparation. Don't skip the star anise as it is a key ingredient. Good with shrimp chips or Kettle Chips' brand Spicy Thai potato chips!

I made 1/5 of the amount and ate it all! Omitted the garlic found the chili-garlic sauce was enough I did use 1/2 teaspoon. As for the cashew butter I placed cashews in the blender along with the oils, vinegar and beans and processed till creamy. Used just a touch of the soy. Love the ginger, cilantro and anise. Thanks
In a blender add all the hummous ingredients.
Process ingredients and if appliance is laboring, add a little bit more of bean liquid, 1 tablespoon at a time.
Process until smooth, scraping down sides of blender as necessary. Season to taste and adjust seasoning if necessary.
Transfer mixture to serving bowl and garnish with sliced scallions and whole star anise.
Best prepared 1 to 2 hours in advance. Cover well (and if not eating soon, refrigerate), however serve at room temperature.