dojemi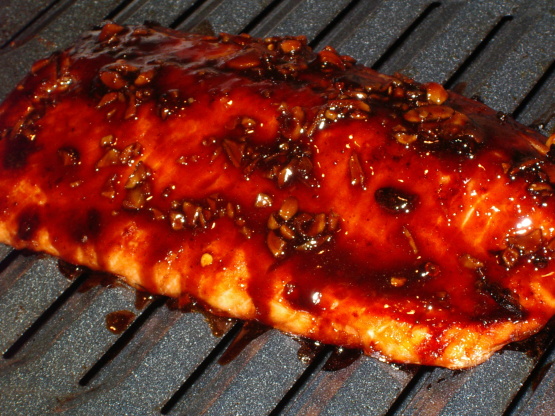 This recipe comes from Legal Seafood, a restaurant in Boston.

This was an absolutely delicious glaze! I will definitely use it again. Keep an eye on your broiler, though %u2013 mine runs hot, even for a broiler, so I only ended up cooking the filet for four minutes, by which point the glaze was well-browned and the filet was cooked to about medium, which is my preferred doneness for good salmon.
Place the sugar, soy sauce, hoisin sauce, ginger, a dash of red pepper flakes, garlic and lime juice in a nonreactive saucepan.
Bring the mixture to a boil, reduce the heat to medium and cook for 15 to 20 minutes or until the sauce forms a glaze.
Set aside.
Preheat the broiler.
Place the salmon on a broiler pan and baste with the sauce.
Let sit for 15 minutes.
Broil them until cooked through, about 8 minutes, basting again with the glaze.
Remove the salmon from the heat and baste once more with the glaze before serving.