Rita1652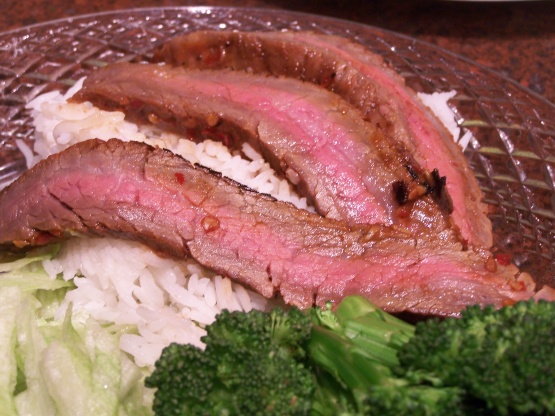 A flavorful Asian-inspired flank steak is marinated in a Chinese sauce made of red chili, and garlic," Lee Kum Kee" The key to keeping flank steak tender is to sear it quickly over high heat, so you must start with a hot grill. Serve over rice or over a bed of greens or in a wrap. FYI: Make one now and one later. I bought 2 steaks made one and froze the other with the marinade. Before cooking defrosted in the refrigerator and brought to room temperature before grilling. It was PERFECT!

I started marinating my steak in the morning before work, and by the time I could get home from work and light the grill, my steak had marinated for about 10 hours.I made it exactly as posted, adding the cilantro. My steak tasted strongly of ketchup, so I'd reduce the amount of ketchup or leave it out entirely. But it may have been because I marinated a bit longer than the recipe stated. The cooking time was perfect for medium-rare, and the meat turned out tender. Thanks for sharing your recipe! Made for Bargain Basement tag game.
Combine ingredients (adding optional for Thai flavor if desired) except steak in a small bowl.
Mix to combine in a large zip top bag.Place flank steak in bag and seal, message meat to coat with marinade .
Refrigerate 8 hours or overnight.
Bring to room temperature for 30-60 minutes.
When ready to cook, remove from marinade and discard marinade.
Preheat grill for direct cooking. Rub grid with oil.
Grill 3-4 minutes per side over high heat for med-rare. Do not touch meat for 3-4 minutes.
Allow to rest 15 minutes after grilling before slicing.
Transfer steak to platter.
Slice thinly on diagonal across grain.