Asian Firecracker Chex Party Mix
alligirl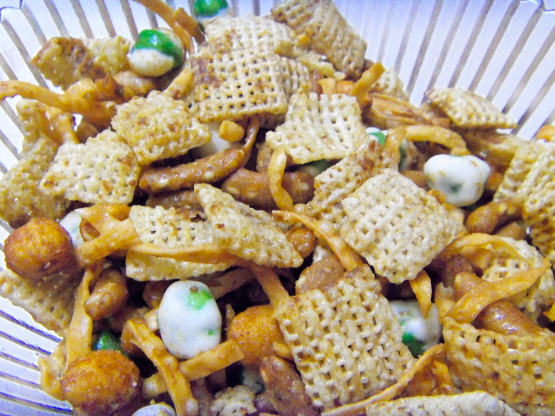 This is a recipe I found in Cook's Country magazine. If you like a little spice and something different - this is it! I make it every year and give it as Christmas gifts from my kitchen.
Adjust oven rack to middle position and heat oven to 250 degrees.
Combine cereal, sesame sticks, wasabi peas, chow mein noodles and peanuts in large bowl.
Whisk butter and soy sauce in small bowl, then drizzle over cereal mixture.
Sprinkle evenly with ginger, garlic powder and cayenne and toss until well combined.
Spread mixture over rimmed baking sheet and bake, stirring every 15 minutes, about 45 - 60 minutes. Until crisp!
Cool to room temperature on paper towels.