Asian Enough Grilled Chicken Wings
gailanng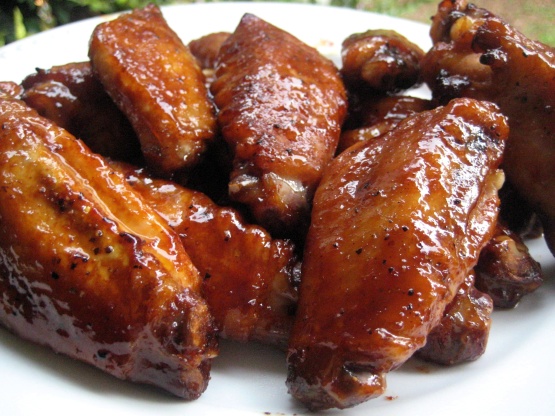 This recipe's a winner - it's got enough flavour for the more adventurous in the crowd and yet it's not spicy at all. It is a sweet and oh so tasty recipe. I did NOT include the overnight marinating time. Enjoy!

Top Review by ImPat
I did not grill these delcious wings but oven baked them - I put them onto a foil lined tray (after marinating them for about 7 hours) and then spooned some of the marinade over the wings and then covered them with alfoil and baked then at 175C fan forced for 40 minutes and then removed the foil and turned them and put back in the oven for about 5 to 10 minutes to brown off - I did omit the gin as I did not have it but otherwise made as per recipe for ingredients. Thank you Nif for an enjoyable dinner, made for Went To Market tag game.
Mix up the marinade ingredients. Toss in the chicken wings, stir and then let marinate overnight. It's a good idea to reserve some of the marinade (before adding the chicken) and keep it for basting your wings as they come off the grill.
Preheat grill to medium heat.
Place your wings on the grill. Remember, there's lots of honey and sugar in this recipe. So, don't let the heat get too high and keep the wings turning.
After about 15 to 20 minutes your wings should be cooked through, depending on your grill. Remove from grill.
Baste the wings with your reserved marinade and enjoy.