lets.eat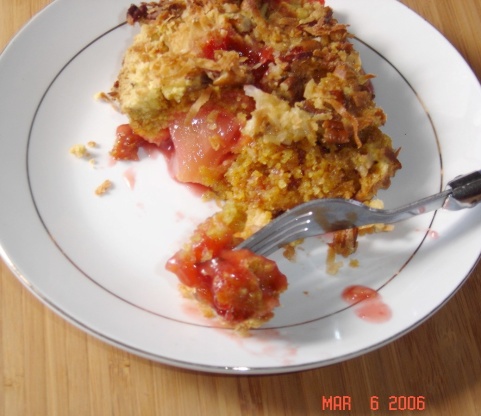 Have always loved the ability to just "throw" a cake together and not have to worry about it. This time I did not have the usual crushed pineapple or yellow cake mix. I tried this mix and it was a real hit
16 1⁄4 ounces lemon cake mix (I used double pudding type)

21

ounces cherry pie filling

20

ounces fruit salad, tropical*

4

ounces butter, melted (i stick, can use margarine)
1⁄2-3⁄4 cup pecans, chopped
1⁄4 cup flaked coconut
Preheat oven to 350 degrees.
Lightly spray a 9X13 baking pan.
Pour in fruit salad with liquid and pie filling. Mix together.
Sprinkle cake mix over top evenly.
Top with nuts.
Drizzle butter over it all.
Top with coconut.
Bake, uncovered, 50-60 minutes.
Enjoy as is or serve with a mango sorbet.
* I used a mixture of pineapple, papaya(red and yellow), and guava in passion fruit juice.