Kim127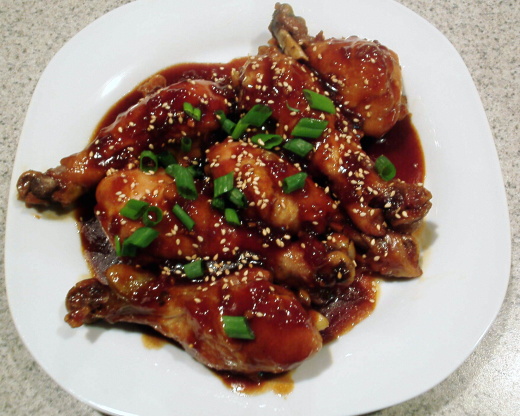 Kids love chicken drumsticks. These have an Asian flair and are sure to please both kids and adults. Grab some napkins!

I didn't have reduced sodium soy sauce, only regular, and this was way too salty and I love salt. I would make this again though. I can see it would be fine with the reduced sodium sauce.
Rinse and pat chicken dry.
In a large, wide saucepan, mix together sesame oil, onion, garlic, broth, rice vinegar, soy sauce, hoisin sauce, apricot preserves, light brown sugar and ginger; mix well.
Heat mixture to a boil over med-high heat.
Add the chicken drumsticks.
Continue to cook over medium to medium-high heat for 25-30 minutes, turning/rearranging chicken (with tongs) often, or until chicken juices run clear.
Remove chicken to a platter; keep warm.
IF the sauce has not yet reduced to a thick glaze yet, continue to cook and stir until it reduces to a thick glaze; do not let burn.
Either Pour the reduced glaze over chicken pieces or return the chicken to the galze in the pot (off the heat) and stir to coat.
Sprinkle with sesame seeds and/or sliced green onions, if desired.
Serve hot or room temperature.
Grab some napkins and dig in!