Asian Cooked Cabbage Salad
Meekocu2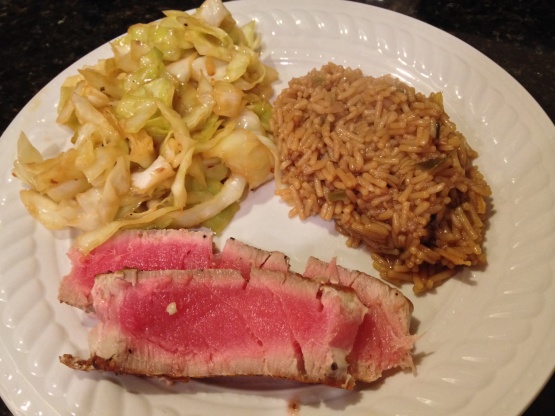 I got this recipe from a friend a few years ago and finally decided to post it here. I've never seen a recipe like this, or have tasted anything so good before. Plus it's so easy!! You must try this with grilled tuna steaks, teriyaki chicken or pork chops!!!

I Love this recipe for its simplicity! However, it is not "asian" enough for me so I just use it as a stir-fry base. I add some onion and 1T each of sesame oil, garlic & ginger. Sometimes I throw in other shredded vege's all depending on what's leftover in the fridge.
Mix together well, the ingredients for the sauce and set aside.
Heat the oil and crushed red pepper over medium high heat.
When the oil is hot, add the cabbage and stir fry until the cabbage just starts to wilt, about 5 minutes.
Add the sauce, turn the heat to hi, heat for about 3-5 minutes and then serve.
How easy was that!