JustJanS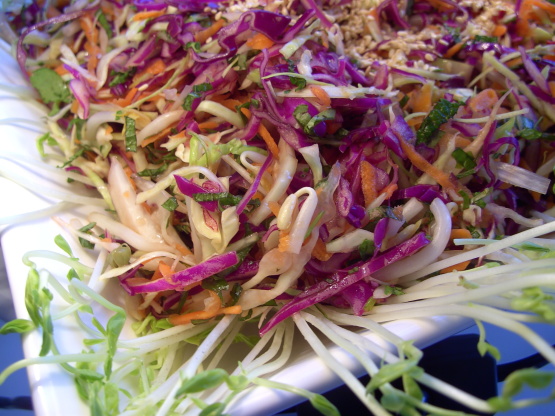 I often make this as a quick side salad, quicker if you buy pre packaged coleslaw which I do if there are only 2 of us. You can replace the dressing with Nuoc Cham and some black pepper for a vietnamese style.

This was good and healthy, but it just missed being a 5 star recipe and I can't quite put my finger on the reason why. I think a little palm or brown sugar, finely julienned kaffir lime leaf and fresh ginger would have lifted it. Simple to make and beautiful to look at though.
Finely shred the red and white cabbage and toss together with carrots, spring onion and beansprouts.
Splash in the rice wine vinegar, sesame oil and fish sauce. Toss together.
Just before serving, shred the herbs and toss together with the coleslaw mix and toasted sesame seeds.
Lay down a base of snow pea tendrils and top with the tossed cabbage mix.