Asian Cilantro Tilapia #RSC
bellazoe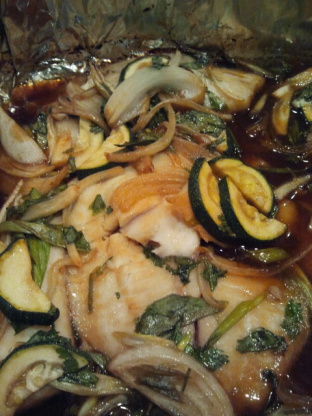 Ready, Set, Cook! Reynolds Wrap Contest Entry. I'm of a Korean background so the asian flavors of salty, sweet, sesame, ginger, garlic is present. My kids love it and I don't think they realize they're eating 'fish'. They don't need to know as long as they like it and eat it. lol. Using the tilapia is the best cuz of the lightness of the fish. The distinctiveness of the cilantro will give it a great fresh herb taste.
4

thawed tilapia fillets

marinade

6

tablespoons sesame oil (separate in 2 parts so only use 3Tbsp, save the remaining.)
1⁄2 cup soy sauce (preferably low sodium)
1⁄4 cup rice wine vinegar

2

tablespoons honey

2

tablespoons water

2

garlic cloves, grated

1

slice fresh ginger, grated (primarily the size of the 2 garlic cloves)

1

whole lemon zest

1

zucchini (halved vertically and sliced)

1

onion (halved or sliced long)

4

scallions (sliced long on an angle)

1

bunch fresh cilantro (coarsely chopped)
Reynolds Wrap Foil
Preheat oven 375.
Make the marinade. Make sure to only use 3Tbsp of the sesame oil. This should make a little over 3/4cup of sauce but out of that put aside 1/4 cup for the veggies and the rest is needed for the fish.
Add in all the veggies and a handful of cilantro in a mixing bowl. Sprinkle in Salt/pepper, LEMON ZEST, 1/4 cup of the marinade and toss. Put to the side.
Lay down the REYNOLDS FOIL in the baking dish.
Pour the other part of the sesame oil (3Tbsp).
Lay the TILAPIA and you can overlap the thinner sides.
Pour the remaining part of the marinade over the fish.
Spread the veggie mixture covering the fish.
Cover the foil but leave a small air pocket.
Bake 12--15 minutes.
ENJOY by itself or on some rice.