ImPat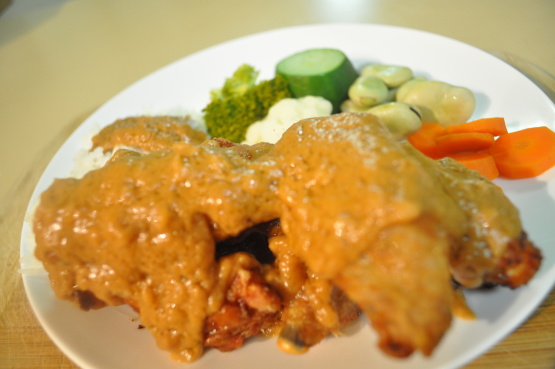 I found this recipe in a Simple and Delicious magazine and am posting for safe keeping. I liked the mixture of ingredients for the sauce that is added to the fried wings.

Top Review by ImPat
I used 1 kilo of wings and just cut the tips off (froze them for later to make stock) and then floured as directed but only used 1 teaspoon of salt and 1/2 teaspoon of paprika but chose not to deep fry but to spray a rack with oil and then spray the wings and bake at 190C fan forced oven for 45 to 50 minutes for lovely crunchy and tender juicy wings. I made the full quantity of sauce but next time I will double it so there is extra to go over the rice as I served as a meal with steamed vegetables. The addition of tabasco (I used 1 teaspoon) gave it a lovely kick which we thoroughly enjoyed. Thank you diner524 for a very tasty dinner. made for Everyday A Holiday.
Cut chicken wings into three sections; discard wing tip sections. In a large resealable plastic bag, combine the flour, salt, paprika and pepper. Add wings, a few at a time, and shake to coat.
In an electric skillet or deep-fat fryer, heat oil to 375°. Fry wings, a few at a time, for 6-8 minutes or until no longer pink, turning once. Drain on paper towels. Transfer wings to a large bowl and keep warm.
In a small saucepan, combine the sauce ingredients. Cook and stir over medium heat for 1-2 minutes or until smooth. Pour over chicken wings and toss to coat. Serve immediately.