Asian Chicken Salad with Roasted Peanuts
kindcook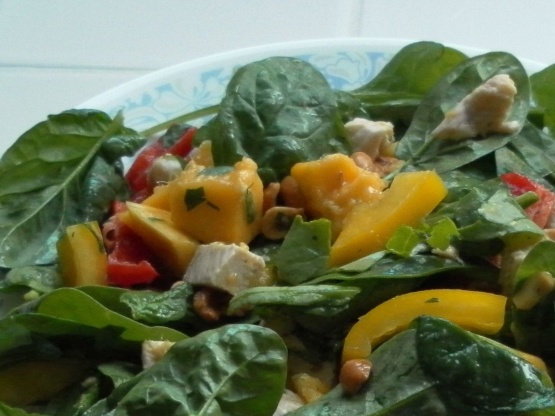 I just found this recipe in Bon appetit. It looks so delicious I simply had to share it!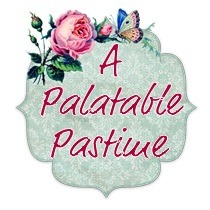 This is a wonderful salad that is easy to make if you use an already made rotisserie chicken. I bought one at the grocer while grabbing the other ingredients and put this one together really fast! I used an Asian dressing by "Walden Farms" called "Oriental Dressing" which is both fat and calorie free and it worked perfectly in this salad- I don't know if that is available to everyone, but it's worth looking for. I also used a salad mix called "Asian Greens" instead of baby spinach, but it contained mostly spinach anyway, and it was great! This salad does remind me quite a bit of the one that Wendy's serves called Mandarin Chicken Salad but this is much better. But I think this salad would also work well with mandarin oranges and chow mein noodles as substitutions in the salad in stead of mangoes and peanuts. Overall, this was a very healthy salad (I took the skin off my chicken and kept light on the nuts) and I know I will keep it as a part of my regular routine, when I need dinner in a hurry! Thanks for a great recipe, Bev!!!
3⁄4 cup asian-style dressing
1⁄4 cup chopped fresh cilantro

2

tablespoons chopped fresh ginger

1

(6 ounce) package baby spinach leaves

2

cups sliced red peppers or 2 cups yellow peppers or 2 cups green bell peppers (mixed)
2 -2 1⁄2 lbs rotisserie chicken, meat torn into bite-size pieces (about 4 cups)
1⁄2 cup honey-roasted peanuts

1

mango, peeled,pitted,sliced
Mix dressing, cilantro, and ginger in small bowl.
Toss spinach, peppers, chicken, and nuts in large bowl with enough dressing mixture to coat.
Season to taste with salt and pepper.
Divide salad among 4 plates.
Top with mango and serve.