Asian Chicken Pasta Salad
PanNan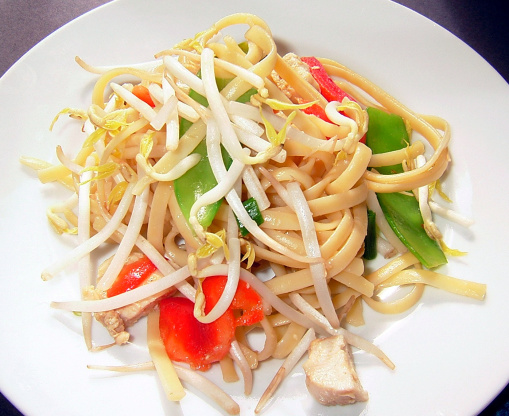 This Salad makes a complete meal. The leftovers taste awsome wrapped in a soft tortilla.
In a small bowl, blend soy sauce, rice vinegar, water, mustard, seseame oil, garlic, and hot pepper flakes, set aside.
Blanch snow peas in a pot of boiling hot water for 1 minute. Drain immediately and put into ice cold water. Drain again. Pat Dry.
Cook pasta or noodle according to package directions. Rinse with cold water and drain well.
In large bowl, stir together pasta, chicken, snow peas, red pepper, green onions, and reserved dressing. Refridgerate for no less then 30 minutes before eating.
Just before serving, top with bean sprouts if using.
If well chilled, this salad will keep for up to 2 days.
P.S. I have used shrimp instead of chicken, it's just as yummy!