Asian Chicken Lettuce Wraps
Chef*Lee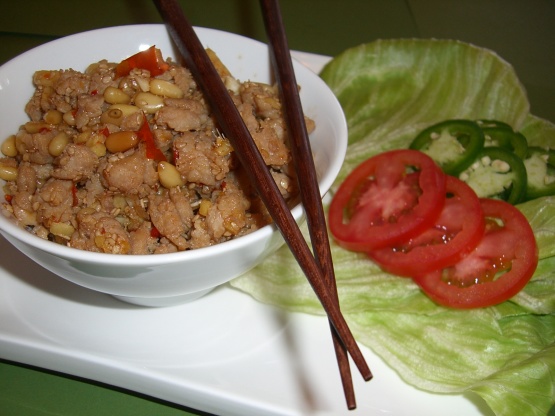 This can be served hot or cold. I enjoy it hot. I also use chopped chicken as I like the texture better. If you do use ground chicken, be sure to brown it for a more pleasing color and flavor.

This has just become one of my favorite recipes on Zaar!!! These taste like you expect lettuce wraps to taste! You get that tangy, sweet and sour asian taste inside the crunch of the lettuce. I toasted my pine nuts in a little bit of oil in the skillet then set them aside until ready to use. I did not change a thing, the only thing that I did not do was the garnish of cilantro and peanuts. I chose to garnish mine with fresh jalapeno and tomato. I did try it with cilantro and it kind of fought with the delicious chicken mix so I opted for the heat of the jalapeno and the cool of the tomato instead. Love, Love, Love this recipe!! Thank you so much!!!
Heat oil and cook chicken until brown.
Add soy, mae ploy, sesame seeds, pine nuts, rice vinegar, garlic,and ginger and cook one minute.
Serve in ramikin garnished with ground peanuts and fresh chopped cilantro.
Scoop into iceberg lettuce leaves.