Ingy1171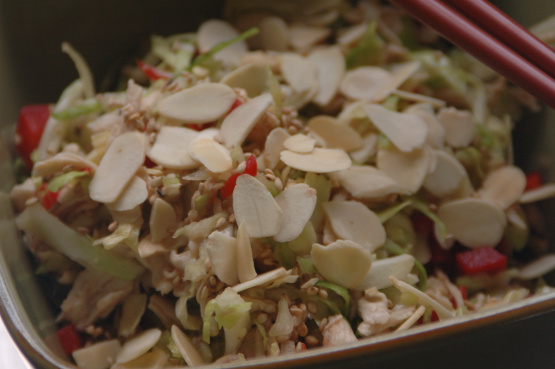 A delicious and simple slaw using East Asian flavors. Note: for variation, add the juice of 1 lime.

This is a favorite in our house that I like to keep in the fridge for quick lunches. I often make it with just the chicken, cabbage, bell peppers and dressing then top with almonds when served. The dressing is very flavorful even though I use splenda in place of sugar but dh prefers a creamy dressing so I add some mayo to it. Thanks for a great recipe!
To prepare slaw, combine the first 7 ingredients in a large bowl.
To prepare dressing, combine cider vinegar and next 6 ingredients in a small bowl.
Stir and pour dresssing over the slaw: toss to coat.
Cover and chill 1 hour.
Sprinkle with slivered almonds and sesame seeds before serving.