Asian Chicken and Snow Pea Noodle Bowl
Parsley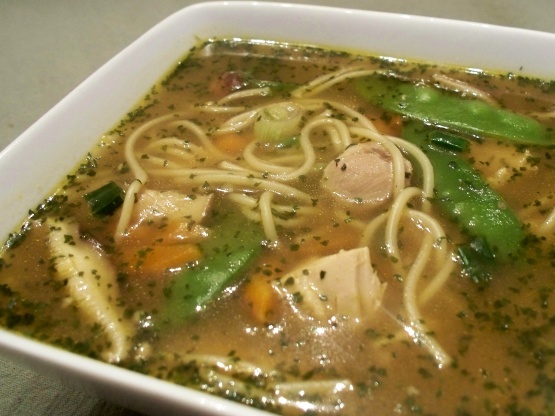 A noodle bowl is basically a soup. This recipe can easily be changed to a beef noodle bowl, buy substituting beef for the chicken and beef broth for the chicken broth. The original recipe calls for tofu, but I don't eat this. Hard-headed, I guess. If you want it vegetarian use the tofu and vegetable broth. Additional bouillon powder can be added if you like the broth more flavorful.

Pretty darn good. I cheasted by using a precooked rotisserie chicken and I also added some sliced mushrooms. Not a big fan of mushrooms, but it did make a nice textural difference and besides my hubby loves them. I will definitely be making this again.
Bring broth to a boil in a large saucepan over high heat.
Stir in vermicelli or other noodle, return to boil.
Reduce heat to medium high and simmer about 6 minutes.
Stir in chicken, snow peas, carrots and chili sauce.
Simmer about 2 minutes.
Remove from heat and stir in green onions, cilantro, lime juice, soy sauce and ginger.
Serve immediately.