Kathy228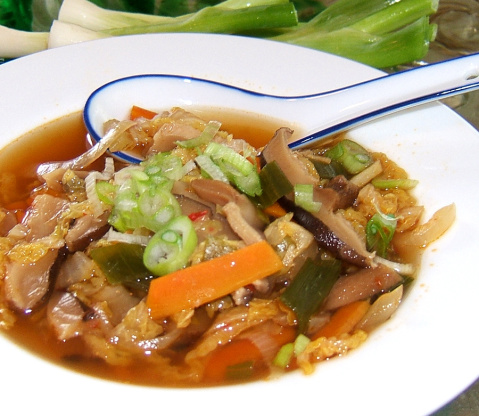 Slowly caramelized onions with lots of garlic and a mushroom stock give this thick soup it depth of flavor. If you like, stir a few drops of toasted sesame oil into each bowl. Enjoy! Adapted from Moosewood Restaurant New Classics cookbook.
I usually like all these ingredients, but something about the combo just wasn't for me. The broth was too much on the ginger/chilli side, the other flavours were over powered. I might give this a try again but just cut out the chili and cut the ginger down.
Asian stock

6

cups water

8

dried shiitake mushrooms

1

cup scallion top (green parts)

1

cup thinly sliced carrot

1

cup thinly sliced daikon radish (or use red radish)

8 -10

thin slices fresh gingerroot

Sauce

2

tablespoons olive oil

2

cups thinly sliced onions

3

tablespoons minced garlic (4-5 cloves)

1

tablespoon peeled grated fresh gingerroot

4

cups thinly sliced cabbage (recommend napa or savoy cabbage)

1

cup sliced carrot, cut into matchsticks

1

teaspoon chili paste (Chinese is best)

2 -3

tablespoons soy sauce (or to taste)
hijiki seaweed (to garnish) or sliced scallion (to garnish)
In a small pan, bring 2 cups of water and the mushrooms to a boil. Remove from heat and soak for 15-20 minutes until softened. Strain the soaking liquid into a 2 quart pot and set the shiitake mushrooms aside.
Add the remaining 4 cups water, scallions, carrots, radish, and ginger to the soaking liquid.
Cover, bring to a simmer and cook gently for about 30 minutes. Strain and return the stock to the soup pot.
While the stock is simmering, heat oil in a heavy skillet(or wok) and add the onions. Cook on medium heat for 15 minutes, stirring frequently, until the onions are browned well(don't burn!). Add the garlic and saute for 3 minutes.
Mix in ginger, cabbage, and carrots. Cook, stir often until cabbage is limp and crisp tender, about 10 minutes. Add the veggies to the strained stock and stir in the chili paste and soy sauce.
Remove and discard the shiitake stems. Thinly slice the caps, add them to the soup, and reheat until just boiling.
Ladle the soup into bowls. Top with the hijiki seaweed or scallions, or both. Enjoy!