Asian Cabbage Salad With Fresh Peaches and Wasabi Peas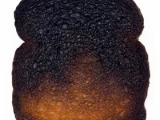 From Jean Pare's Company's Coming series of cookbooks from Canada. I added and subtracted a few things here and there in this recipe. Golden syrup is difficult to find in the US. Substitute brown rice syrup, honey, agave nectar, etc.instead-bearing in mind that these substitutions will add their own unique flavor. Belgian endive can be substituted for the red cabbage or radichhio.
Directions
In a large salad bowl, toss the cabbage, green onion, celery and carrot.
In a non-reactive bowl combine the vinaigrette ingredients and whisk well. (Dressing can be made in advance.).
Add the wasabi peas and sliced *peaches to the salad bowl. Toss carefully with the vinaigrette.
*NOTE: Do not add the fruit or wasabi peas to the salad until just before serving.
Servings are estimated.