hepcat1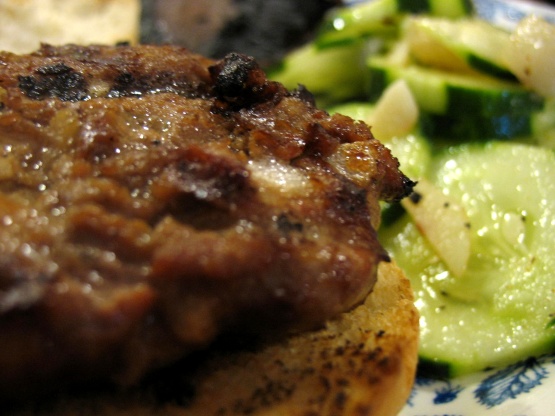 This is a nice juicy burger recipe. The waterchestnuts and onions give it a suprising texture. Might wat to take your first bite before pouring on the bottle of ketchup.

Made for "My 3 Chefs 2007" This was the third burger I made for the game, and it was DH's favorite of all three! I liked them all equally, but he really loved this one in particular. I kept saying that I thought it should have some sort of asian topping (merely because that's how I prefer my burgers), but he insisted repeatedly that it was perfect AS IS and not to change a thing in the future! It really has a lot of flavor and comes together easily. I didn't have shitake mushrooms, so I used some dried porcini; we also used ground turkey instead of beef. Oh!....I just this second realized I forgot the cornstarch!! Well, I guess we liked them anyway! We served these with recipe#72774. Thanks, NavyDoc, for a great recipe that I'm sure we'll make a lot this summer!
Soak mushrooms in warm water to cover until softened, about 20 minutes. Drain, discard stems and finely chop caps.
Crumble meat into a large bowl. Add mushrooms, onion, water chestnuts, green onions, garlic, soy sauce, oyster-flavored sauce, and sesame oil. Mix well. Sprinkle cornstarch over meat mixture & mix well. Divide mixture into 4 equal portions into a patty about 1" thick.
Place patties on a oiled grill 3-4" above a solid bed of low-glowing coals or on a medium-high gas grill. Cook, turning once, until done to your liking, 3-4 minutes per side for medium-rare.
Serve in buns with your favorite condiments.