JustJanS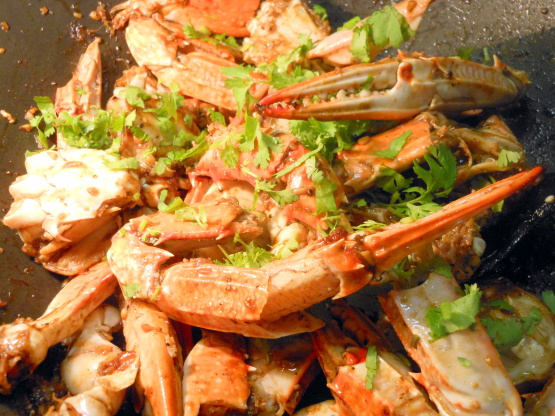 I have adapted this to the finest crab in the world - the inimitable Atlantic blue crab, Callinectes sapidus, 'beautiful swimmers'. Nothing compares to their rich unctuous, mildly sweet, faintly briny, "ocean" flavor - nor to their absolute pugnacity & resoluteness in standing their ground. Insist your blue crabs are alive & fighting - they deteriorate rapidly when they expire (never fall for "they're just slow from the cold" - don't buy seafood from anyone who uses that line!). Atlantic blue crabs have suffered terrible population declines in the past 20 years - they seem to be making a comeback here in the past 2 to 3. We love going crabbing & using handlines while the traps sit through a tide n deeper water through a high tide. A wonderful book about our crabs is "Beautiful Swimmers - Watermen, Crabs and the Chesapeake Bay" by William W. Warner. I can't recommend this book highly enough. A most excellent summer read; oh & nice to know who you're eating. Serve al fresco with newspaper tablecloth, large pasta bowls if available, steamed rice, steamed Chinese broccoli or green beans, cucumber shavings in rice wine vinegar and a light bubbly ice cold beer.

Buster's Friend, we both think we died and went to heaven-these crabs were that good. You'll be pleased to know we caught our own crabs for this this afternoon (so VERY fresh and clacky) and while they aren't the same blue swimmers as your blue swimmers, they are still a lovely, sweetly delicious crab (Google Blue Manna Crab Images to see the difference). Ours were a good size for the type (around 1 lb each) and I used 4 for the two of us. I halved the Thai chillies as our son grows them and they are HOT, otherwise I followed your recipe exactly. Thanks for posting a fantastic recipe we will make again! Would give this more stars if I could!
Steam crabs until bright red - ideally using a crab pot with a rack. Remove from heat and cool.
Turn each crab on its back; lift and remove apron. turn over & pull off back. Remove and discard the devil's fingers (gills) and the creamy, green or yellow tomalley in the center. Crack body in half. Remove & crack claws gently with a nutcracker.
Heat oil in a wok or a large skillet over high heat. Sauté crab pieces 2 minutes. Remove from pan and set aside.
Turn down heat to medium; add garlic, ginger, and chiles. Cook 3 minutes, stirring frequently. Add oyster sauce, dark soy sauce, thin soy sauce, and sugar. Reduce heat to low and simmer 30 seconds.
Add pepper and return crab to wok; stir until coated with sauce. Serve garnished with cilantro.