Asian Barbecue Chicken Salad
Kay D.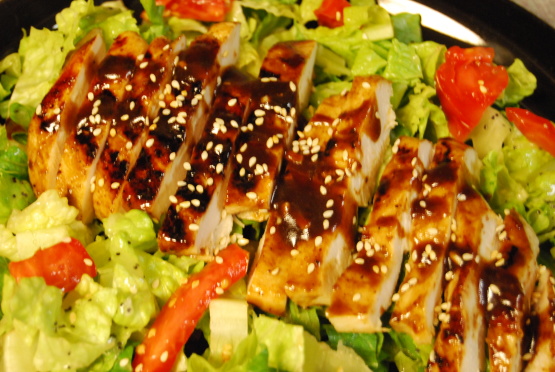 This is from Bon Appetit who got the recipe from Camp Robber Cafe in Montrose, CO. Absolutely YUMMY!

Excellent! Because of previous reviews, only used 2 tbsp of sugar for dressing and it was perfect. The barbeque sauce was much spicier than I anticipated, but in a good way. Didn't feel like making the croutons so used some crunchy Chinese noodles instead. I felt this recipe made more than enough salad dressing and barbecue sauce. I used the leftover dressing in a romaine/mandarin orange/scallion salad and used the barbecue sauce on grilled salmon. Excellent results.
For the poppy seed dressing: Whisk sugar, rice vinegar, onion and mustard powder in a small bowl to blend. Gradually whisk in oil. Stir in poppy seeds. Season to taste with salt and pepper. (Can be made 1 week ahead. Cover and refrigerate.).
For the Asian Barbecue Sauce: Whisk hoisin sauce, oil, honey, soy sauce, ginger, garlic and crushed red pepper in a small bowl to blend. (Can be made 1 day ahead. Cover and chill.).
For the Croutons: Melt butter in a medium skillet over medium heat. Add garlic, basil and oregano and stir 1 minute. Add bread cubes and toss to coat. Sprinkle with salt and pepper. Saute until croutons are golden, about 12 minutes. Transfer to a plate to cool. (Can be made 3 hours ahead. Let stand at room temperature.).
For Salad: Prepare barbecue to medium high heat. Sprinkle chicken with salt and pepper; brush with oil. Grill chicken until cooked through, about 5 minutes per side. Brush chicken with some Asian barbecue sauce. Grill 1 minutes longer per side. Transfer chicken to work surface; let stand 5 minutes. Cut crosswise into 1/2-inch thick strips.
Place lettuce and croutons in large bowl. Toss with 1/2 cup dressing. Dived lettuce mixture among 4 plates. Garnish with tomatoes and grilled chicken strips. Drizzle chicken with barbecue sauce. Sprinkle with sesame seeds and serve.