Asiago Cheese Bread, Excellent
Dsluzier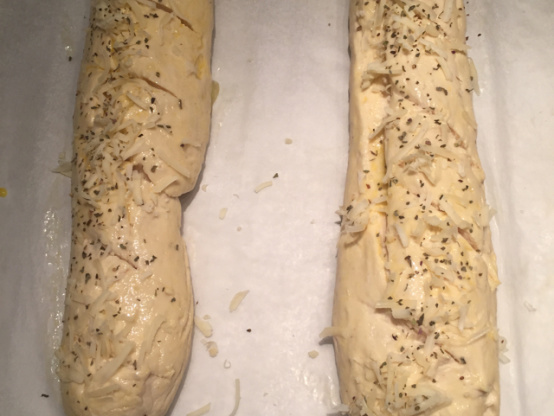 No fear...it's not as much work as it may seem. Lots of passive cooking time here. Great for hors-d'oeuvres with a little cheese spread, pate' or what-have-you! Terrific as bruschetta. This just may be the most-liked bread I make. A pre-shredded 3-cheese combination is also very good. I have no clue as to the provenance of this recipe, been making it for a while.

I've been making this bread, sans the sugar, for about 3 years. It's the best cheese bread I have ever eaten. You can actually taste the cheese. I, like another reviewer, can make a meal of it. I love it for breakfast toasted and buttered. IMHO, no other cheese except Asiago will give you the great favor. I buy the wedge of Asiago at Walmart and can make two loaves from it. For me, nothing else is needed in this recipe. I cannot knead by hand any more but I make this in my KA with a dough hook and process for 9 minutes on the (2) setting once all ingredients are incorporated. Turns out beautifully.
In large bowl, combine 1-1/2 cups of the flour, yeast, sugar, salt and pepper. Melt butter in milk to 120-130 degrees. Stir milk mixture into flour mix until smooth. Stir in 1 cup cheese.
Gradually stir in about 2 cups flour to make soft dough. Knead in mixer or by hand until smooth and elastic, adding flour if needed.
Oil large bowl, add dough, turn to coat. Cover with clean damp towel and let double. (It may take 2-1/2 hours, must be the cheese.).
Punch down, form into 2 long thin loaves. Spray baking sheet, (sprinkled with cornmeal?) Or use baguette pans. Place loaves on pan, let raise, covered, until doubled (45 min.) Preheat oven to 375.
Slash dough with serrated knife. Brush with lightly beaten egg and sprinkle top with remaining 1/4 cup cheese. (basil, parsley, opt.) Bake 30-35 minutes till done. Cool on rack.