As Close As I'll Ever Get to Greece Salad
Boomette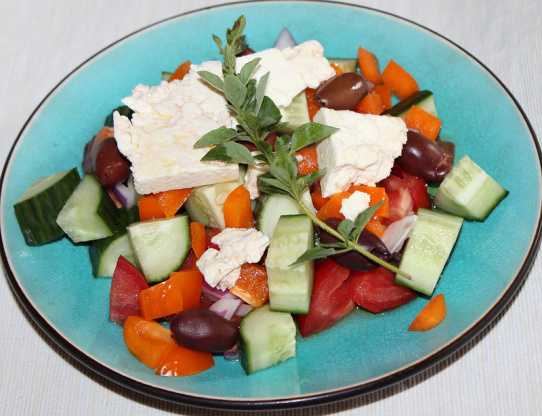 From our local newspaper. Extremely important to use the freshest ingredients for this salad! Recipe amounts were not given so they have been estimated. A note about olive brine: I use the liquid that the olives are soaked in either the package or the fresh ones from the "olive bar" at the natural food store. However I have tried a dirty martini olive juice from this source: www.garliclady.com based in Vancouver, Washington.
Fresh and clean tasting salad, despite the use of the - uh - dirty olive juice.
Whisk together the vinaigrette ingredients and set aside.
Place tomatoes, cucumbers, red onion and bell pepper on two salad plates.
Top with the feta slices, kalamata olives and sprigs of fresh oregano.
Drizzle the vinaigrette on the salad.