Arugula, Pear and Parmesan Salad
Bergy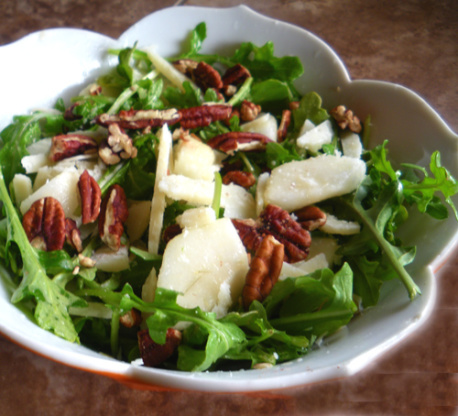 This is an elegant, yet simple salad. I tend to make it often since it's the only recipe I use hazelnut oil in. Taken from The Cook's Encyclopedia of Vegetarian Cooking.

Top Review by Bergy
What a taste treat this is! Everything just blends together to create a great taste sensation. I had Italian Parmesan and it wouldn't curl when I shaved it but the flavor Mmmm. I cut the salad back to one serving and used 1 tsp of Walnut oil. A definite will do again salad.
Peel and core the pears and slice thickly. Moisten with lemon juice to keep the flesh white.
Combine the nut oil with the pears. Add the arugula leaves and toss.
Turn the salad out onto four small plates with shaving of Parmesan cheese. Season with freshly ground pepper and serve with bread.
You can sub the parmesan cheese for bleu cheese and add walnuts, if desired.