Arugula & Chicken With Pasta
mugrage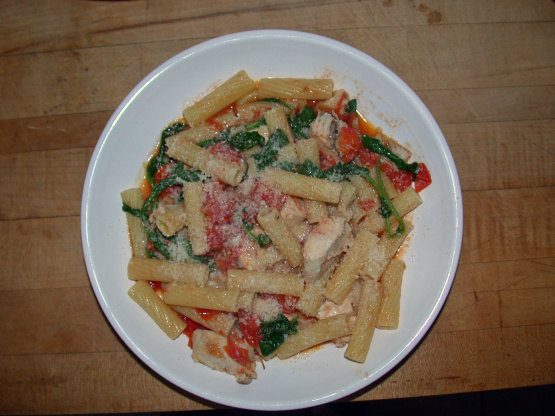 This recipe was developed by PASTA PRESS and printed in their magazine. This is one favorite impromptu dish during the summer months when arugula is plentiful. As the arugula threads its way through the pasta, its peppery flavor compliments the sweetness of the pan-roasted garlic and fresh tomatoes.

I used penne instead of linguine, less chicken (typical for me), and less garlic (unusual for me, but that's a lot of garlic! and I still thought the garlic flavor was strong), and it was YUMMY! I steamed and chopped the arugula before adding it, and I was surprised how this dish completely took down the bite of what was more-peppery-than-usual arugula.
Grill or bake the chicken breasts until medium-rare.
Slice the chicken breasts into bite-sized pieces and reserve.
Heat olive oil in a large stir-fry pan over high heat.
Add garlic and stir-fry until golden but not burn't, about 1 minute.
Immediately add tomatoes and chicken stock and heat to boil.
Reduce heat and simmer for 3 minutes.
Add arugula leaves and toss until they begin to wilt, about 30 seconds.
Immediately toss in the chicken and cook for 30 seconds.
Meanwhile, cook pasta in plenty of rapidly boiling, salted water until el dente.
Drain well, and immediately add to the sauce.
Toss thoroughly to entangle the arugula into the pasta strands.
(Timing is critical. Make sure the pasta will be done immediately after adding the chicken to the sauce.) Cook 1 to 2 minutes longer until all ingredients are heated through.
Serve immediately, sprinkling parmesan cheese over each serving.
Arugula is a peppery leafy vegetable resembling spinach leaves with ragged edges.
It is generally available during late spring and summer.
If it is not available, substitute fresh spinach or a 50/50 blend of watercress leaves and spinach.