Art's French Bread (NOT bread machine)
Nimz1466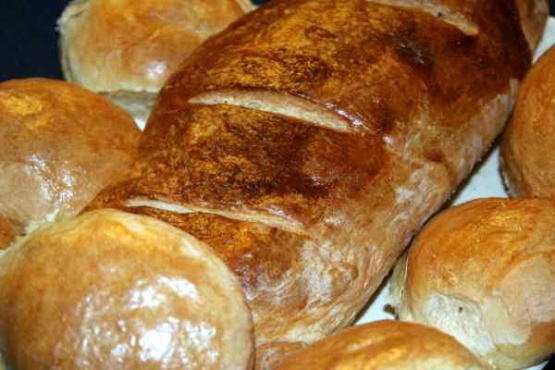 A recipe I got from a boss of mine years ago. Use low-fat yogurt if you want a more sour taste. Cooking time includes both time for dough to rise twice and time for baking.

Top Review by YungB
The bread came out very soft on the inside and thick chewy crust on the outside. However, I think 2 Tablespoons of salt is too much and my bread tasted too salty. I would reduce it to 1 Tablespoon the next time. This recipe makes a lot of bread.
Pour the yogurt into a fairly large pan and add the hot water.
Put 1 Tbs yeast on one side of the bowl and 1 Tbs on the other.
Do the same with salt and sugar.
DO NOT STIR this mixture.
Let set until a scummy surface is formed.
Then add 2 cups flour and stir.
Add 2 more cups flour and continue mixing.
Slowly add 2 more cups flour or slightly more until the dough becomes real pasty.
Flour a bread board and knead the dough.
Continue to knead until the dough becomes somewhat stiff.
Place the dough in the bowl and let rise 1 hour, then punch it down and knead it again.
Let it rise again, then cut into 3-4 loaves and form into loaf shape.
Spread a light film of butter on foil or a baking sheet and sprinkle corn meal over the film of butter.
Place the loaves on the foil 1½-2" apart.
Mix egg white with a little water and a pinch of salt and paint the loaves with this mixture.
Score the loaves.
Bake on middle rack of oven at 375° 30-40 minute If the loaf sounds hollow when tapped with your finger, it's done.
3-4 loaves.