Artichokes Steamed in the Microwave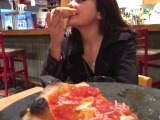 I love fresh artichokes but did not like how long they took to steam until I discovered this procedure. 3 artichokes done in 11 minutes! How easy and quick is that!? This can also be a prelude to grilled or roasted artichokes if you steam half the amount of time in the microwave and then proceed with the other recipes. Great timesaver!
Directions
Trim the artichokes by cutting off the stem and cutting off the tips of the leaves. *I often cut them in half, lengthwise, and scoop out the choke but you can skip this step.
Rub the lemon over all the cut parts of the artichokes so it does not brown.
Place all 3 of the artichokes upside down in a microwaveable dish with a tight fitting lid. *Try a dinner or salad plate on top of your dish if you do not have a lid that exactly fits.
*I place them upside down so the water is not collected in the artichokes but they can be placed right side up and then squeezed out later.
Add the water and cover.
Cook on high for 11 minutes. Check at about 9 minutes since all ovens are not the same, and pierce the hearts with a fork. If they are soft they are done.
Drain and serve.
Most Helpful
This deserve 5 stars just for being so quick! I cooked two for 10 minutes and it was slightly too long but because the petals were all wilty looking but the artichoke "meat" was perfectly done! I did slice them in half and remove the choke before cooking so that's probably why it overcooked. Wow! I'm a total artichoke lover and am used to steaming them for an hour. My husband was out of town last night and I had a craving for them and found this recipe! Awesome! I can see me eating this for lunch now too due to the ease of it! For two large artichokes I'd probably steam for 8.5 to 9 minutes. Thank you so much for this gem of a recipe!

I'm so happy to have found a FAST and EASY way to successfully steam artichokes. This is going into my Best of the Best file. I steamed 2 large artichokes in 9 minutes. Wow! I'm a happy girl. I then went on to cut them in half, marinate them and fire-roast them on the grill. recipe#249326, if you're interested. Thank you for posting this easy recipe!!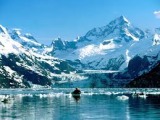 This worked well as an easy first step for another recipe. I had to use plastic wrap to cover the dish. I also found that this worked fine for 4 artichokes.