Barb G.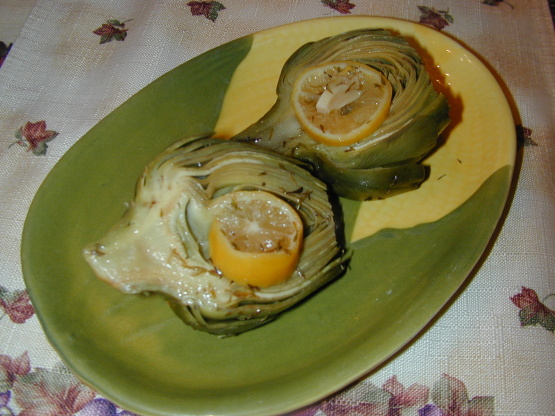 Roasting artichokes brings out the great nutty flavor. We really enjoy artichokes fixed this way. The process is so simple, you just tuck it in your head; just pick the number of artichokes and pick a pan into which they will all fit. Most artichokes come from California--the belt stretches from San Mateo county into Monterey County. The recipe comes from Sunset.com.

OMG! I loved these roasted artichokes! I must, first, admit that I subsituted the thyme with rosemary - and I loved the taste of the rosemary, with these artichokes. This was such a brillant way to cook the artichokes - I have never roasted artichokes, in the oven, before. I found that, this is, by far, the easiest and most stress-free way to cook artichokes. I can't imagine that I will cook them any other way again! The roasted taste was absolutely yummy. By cutting the artichokes in half, they also looked so beautiful, on the plate, with the cut side up. It is best to then turn the artichokes over (with the cut side down), in order to eat them; however, the presentation of the cut side up was lovely, almost looking like a flower. The presentation and the ease of cooking them (and also eating them) make it so much more dinner party-friendly, than some of the other ways of cooking/serving artichokes. I did add the 1/4 cup water that the posting chef mentioned that she would probably do next time - and I believe that it really added more moisture and allowed for more efficent steaming. I also did not have whole lemon (or lemon slices), on hand, so I used lemon juice and minced garlic, when placing them underneath each artichoke half, before placing them in the oven. Once the artichokes were finished roasting, I sprinkled only the salt on each one (I did not add the lemon slices or sprinkle additional garlic on them). Instead, once I had removed the artichokes from the pan, I added butter and garlic to the pan drippings (using enough butter to make a dipping sauce, for as many people, as needed). I stirred the butter, garlic, and pan drippings, while the pan was still very hot, until the butter was completly melted, and then poured the entire combination, into individual dipping bowels. Wow!!!! Was it fantastic!!!! (I must admit that, according the the diners at my table, the rosemary, in the dipping ssauce, really added to the flavor). This is a beautiful, extraordinary, absolutely yummy dish (that can be served, as either a side dish or as a whole, light meal). I highly recommend it and kudos to the chef, for posting, such an amazing recipe!!!!!
Choose artichokes that are 3 to 4 1/2 inches wide (I like the 3 inch better not-tough); break off and discard outer leaves, with a knife, slice off artichoke tips, with scissors, snip thorn tips from remaining leaves.
Trim dark base from stem ends and, with a knife, peel coarse fibers from stems and artichoke bottoms; Cut artichokes in HALF lengthwise,rinse well, and drain briefly.
Choose a pan in which the artichokes fit close together in a single layer (6 halves fit in a 9-by 13-inch pan); if there are large spaces, the juices will scorch.
(I used a metal pan lined with release foil) For each artichoke, pour 1 to 2 tablespoons olive oil into pan and add 1/4 teaspoon dried thyme; Roll artichoke in oil and thyme to coat; cut side down.
Slide 1 thin lemon slice and 1 peeled garlic clove under each artichoke half: The next time I make these I am adding 1/4 cup more water for more moisture. Steam: Seal pan well with foil.
Bake in a 375°F oven until artichoke bottoms are tender when pierced, 40 to 50 minutes.
Transfer artichokes, cut side up, to a platter; top with lemon slice& garlic and sprinkle with salt to taste. Drizzle artichokes with pan drippings; or add butter and lemon juice. Serve hot or at room temperature.