Artichoke-Tomato Bruschetta
Calee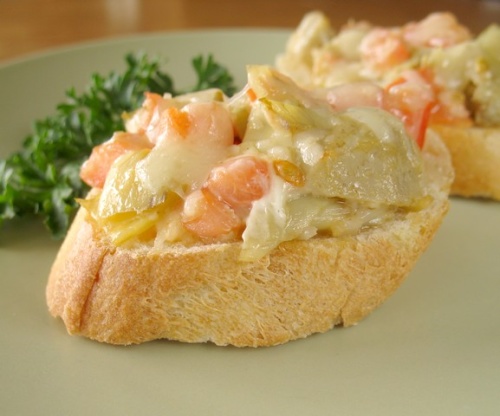 The mozzarella cheese is only optional, I like to sprinkle a small amount on the top after broiling, adjust the garlic amount to suit taste, use *only* Roma (plum) tomatoes for this or the mixture will be too watery.
Set oven to broiler heat.
In a bowl mix together chopped tomatoes with garlic, chopped artichokes, Parmesan cheese, chopped onion and mayonnaise; mix well to combine.
Season with salt and black pepper to taste (adjust the amount of mayonnaise if desired).
Top each slice of bread with equal amounts of the tomato mixture (make certain to cover the bread slice completely with the mixture or the bread will burn).
Place the slices onto a large baking sheet.
broil for about 2 minutes or until bubbly and lightly browned.
Sprinkle lightly with finely shredded mozzarealla cheese if desired.