Artichoke-Stuffed Chicken Breast, but With a Different Hat
VickyJ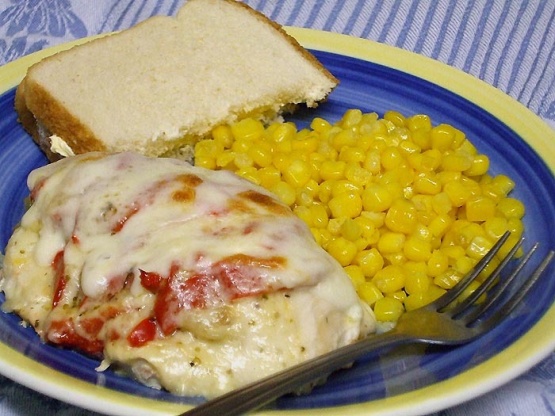 This is based on Artichoke-Stuffed Chicken Breasts, and I thought I would try it a bit differently one night. It's done basically the same, just roasted red bell pepper and Provolone cheese on top, instead of mozzarella. Enjoy!

This recipe is so wonderful! I was timid to try it but I'm glad I did. My 4 year old even ate it up. It is also a beautiful dish. I plan to make this again tomorrow for some special dinner guests.
Preheat oven to 375°F
Line sheet pan with aluminum foil and treat with nonstick cooking spray.
Slice chicken breast in half carefully and open up to a larger piece (butterfly).
Salt and pepper both sides.
Mix next 7 ingredients, reserving 1/4 cup mozz cheese for the topping.
Place 1 Tbsp of filling on each opened breast and fold over gently (egg roll-style)
Bake for 30 min or until chicken is done. (this could vary due to the thickness of the chicken breast and your oven).
Take out and top each breast with half of sliced red pepper and one slice of Provolone cheese, and italian seasoning.
Put back in the oven for 5 - 10 min, or until cheese just starts to melt.