TnuSami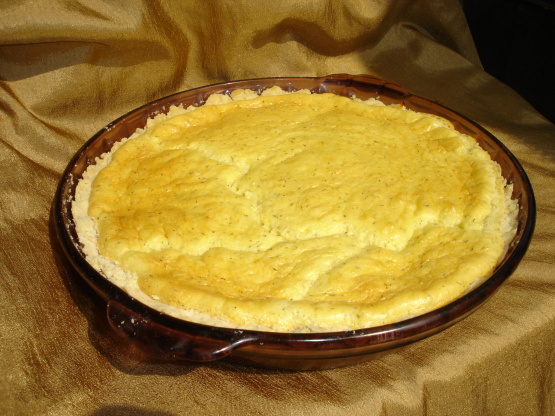 This looks complicated but I assure you it is worth every bit of effort and if you follow the steps it will come out perfect every time Your family or guests will OOOooh at the sight of this dish. Perfect for a brunch where you have other already prepared dishes.. The Chicken Parmesan Sauce can be made the day before and just warmed.

Bergy, this came out perfectly! It was a really pretty souffle and I enjoyed the mixture of flavors! I topped it with your Chicken Parmesan Sauce (Recipe #24485) and it really made the dish! I've individually frozen the slices and look forward to special breakfast treats!! Thank you!!
Fit unbaked pie crust into a 10" pie plate.
Heat oven to 400°F.
Do not prick the pie crust but bake for 10 minutes or until lightly browned, remove pie crust& lower oven temp to 300 degrees F.
In a saucepan melt the butter (margarine).
Blend in the flour, dill weed, salt and pepper.
Stir in the milk, stir constantly until the mixture boils and thickens and remove from heat.
Add cheese, stir the mixture until the cheese has melted; set aside.
In a skillet with a tbsp butter saute the artichoke hearts, green onions and pimiento until the onions are wilted.
in a large bowl beat the egg whites and cream of tartar until stiff peaks form In a small bowl beat the yolks until they are lemon colored.
Gradually beat the cheese mixture into the egg yolks.
Pour the egg yolk mixture over the egg whites and fold together gently.
Spoon artichoke mixture into the pie shell.
Pour souffle over the artichokes.
Bake 45-55 minutes or until a knife comes out clean inserted in the middle and it is a heavenly golden color.
Serve at once with Chicken Parmesan sauce (Recipe #24485).