Diana Yen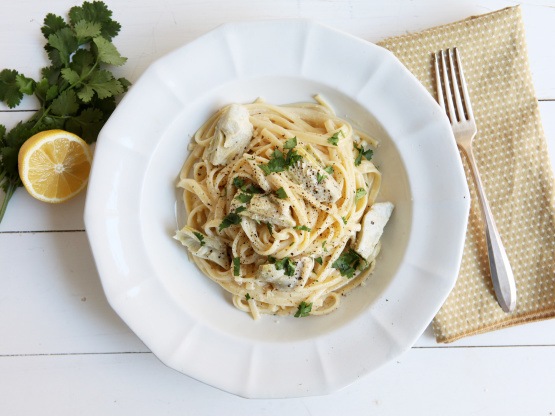 This is an easy, elegant and yummy pasta recipe. It has a mild flavor. It is my husbands favorite.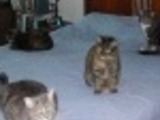 This was excellent, even though I messed up by overcooking the whole wheat linquine a bit. It does have a rather mild but pleasant flavor. The only thing I might recommend is trying it with some herbs, maybe thyme? I cut back significantly on the oil and butter, and used vegetable broth instead of chicken (we're vegetarians). I only used 2 cans of artichokes (couldn't find frozen either) and served it with only 6 ounces of pasta. Okay, there was some leftover sauce which I really enjoyed eating cold the next day:)
Boil pasta according to directions.
In the meantime, melt the 1/4 cup of butter with the 1/4 cup of oil in a small saucepan over medium heat. Add the flour and stir until smooth, about 3 minutes. Blend in the stock, stirring until thickened, about 1 minute.
Reduce heat to low. Add the garlic, parsley, lemon juice, salt and pepper. Cook 5 minutes, stirring constantly.
Blend in the artichokes and the 2 tbsp of parmesan cheese.
Cover and simmer over low heat for about 8 minutes.
Melt the remaining butter in a large skillet over medium heat. Stir in the remaining oil, cheese, and salt. Add linguine and toss lightly.
Arrange pasta on a platter and pour sauce over all. (I usually just toss it all together.).
Serve immediately. (It still tastes good as leftovers too.).