Artichoke Garlic and Bacon Muffins
Ck2plz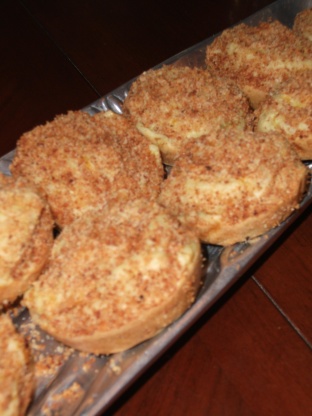 This is a savory muffin that is really tasty. It can be vegetarian or not by using or skipping the bacon.

Top Review by Ck2plz
I love all the ingredients in this recipe but it needs more "ummph." This is a moist muffin b/c of the artichokes. I would reocmmend adding garlic in the batter, squeezing as much liquid out of the artichokes. I would also reduce the amount of the artichokes. I think the bacon is a nice added touch but would be cautiuos if you want to add more. I love bacon but I think too much bacon will take away from the muffin. Next time I will try a different cheddar cheese. My cheese was mild. I will definitely make again but with these changes. Photo Tag May 2010
Heat oven to 390°F.
Grease a standard 12 cup muffin pan.
Fry the breadcrumbs and garlic in the butter until just crisp.
Break the egg into a measuring cup and beat it lightly with a fork.
Add enough of the water to make a full 1 cup.
Mix the egg and water with the flour, salt, baking powder that have been mixed in another bowl.
Before stirring also add the cheese, artichoke and bacon (if using).
Stir together gently until just moistened.
Place the batter in the prepared pan and top with the saved crumbs.
Bake for 10 - 15 mins or until a tester comes out clean.