Parsley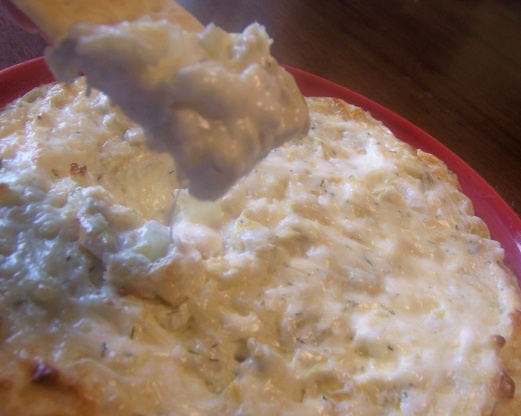 This is my favourite appetizer recipe -- because it is so quick and delicious. Less than 3 minutes of work time and 15 minutes of baking time. It's a great one to take to someone's house -- it travels well and can be cooked in the microwave for 4 minutes instead of the oven. I usually use low fat mayonnaise and cream cheese.

Delicious! Exactly what I was craving. I added a splash of Tabasco and a bit of nutmeg on top. I used it to make a faboo chicken sandwich--spread it on top of a cooked chicken breast, added a slice of provolone and broiled it briefly. Rich and wonderful. Thanks for posting, it's a keeper!
Mix all ingredients in food processor.
Bake at 400 for 15 minutes.
Serve with white corn tortilla chips (Tostitos).