erinj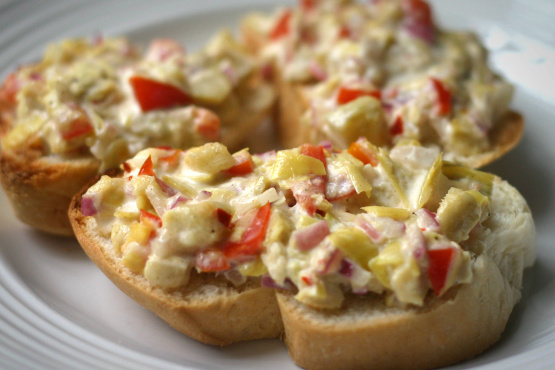 A really great tapa that will get you many compliments. Really simple to make. The original recipe was by Roxanne. I have served this at many of my "Wine and Tapa" parties and was always pleased by the response.

Brought a double batch of this to a party and it was gone in minutes. A little tip, if you just barely toast the bread before putting on the spread (so it feels toasted but it's not even golden brown) it will be nicely browned after the second broiling and won't end up burnt.
Preheat the broiler.
Place the bread slices on a baking sheet and toast lightly under the broiler.
In a medium bowl, mix marinated artichoke hearts, Romano or Parmesan cheese, red onion, crushed garlic, diced tomato and mayonnaise.
Top the lightly toasted French baguette slices with equal amounts of the artichoke heart mixture being careful to spread the mixture over the entire surface.
The edges of the bread will tend to burn if not covered by the artichoke mixture.
Arrange slices in a single layer on the baking sheet.
Broil in the preheated oven 2 minutes, or until toppings are bubbly and lightly browned.