Artichoke Babies With Shrimp and Feta
2Bleu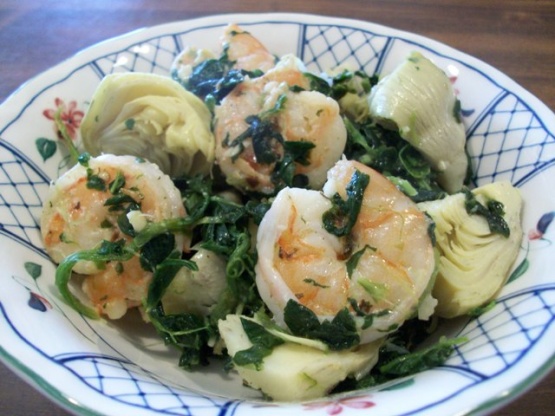 A wonderful appetizer! Baby Artichokes with Shrimp with feta in a Garlic Vinagrette. I've even added fresh wilted spinach. :)

Top Review by Debber
Well, I made this a bit differently than called for in the recipe. I served this on a bed of angelhair pasta, used canned 'chokes and shrimp, added a can of mushrooms...and DH and DD and I LOVED this to pieces, altho' DD would have loved it better without the red pepper flakes. *Photo Tag 2007*
Fill a large saucepan with enough cold water to cover the artichokes and stir in 1 tablespoon salt, 3 tablespoons lemon juice and 1 tablespoon flour.
Cut off and discard the stems of the artichokes, bend back the outer leaves until they snap off close to the base and trim the tops, dropping the artichokes as they are trimmed into the water. Simmer the artichokes, weighted with a heatproof dish or pie plate to keep them immersed, for 12 minutes, or until the bottoms are tender when pierced with a knife, and drain them.
Cut each artichoke in half and reserve. In a large skillet heat 2 tablespoons of olive oil over moderate heat and cook the garlic and red pepper flakes for 1 minute.
Add the shrimp and cook for 2 to 3 minutes until just pink. Transfer shrimp to a side plate.
Add the remaining oil to the skillet and heat until hot. Add the artichoke halves. Season with salt and pepper and stir in remaining lemon juice. Toss to combine and heat until the artichokes are just warm.
Return the shrimp to the skillet. Sprinkle in oregano and toss to coat. Adjust seasoning, if necessary. Serve warm topped with crumbled feta cheese.