Artichoke and Olive Tarts
MsPia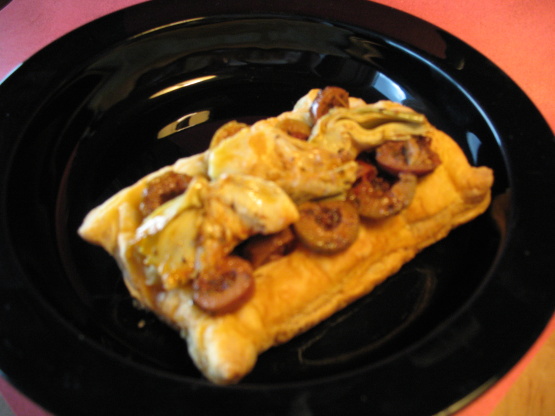 These tasty tarts are flat , and show off lovely color. Use good quality olives that have plenty of flavor!

Top Review by MsPia
I love this appetizer. I thought, the sweetness of the jelly and saltiness of the olives, were the perfect balance. I did used puff pastry instead of pie crust by mistake, but it was a great mistake. Thank you Mme Melissa, another wonderful PAC choice.
The night before: drain the olives, then chop them and put them in a large mixing bowl. Squeeze the juice from the lemon onto the olives, and add the white wine. Add the sugar, and cook this mixture until the juices begin to thicken.
The same night, wash and chop the chive; blanch the lemon zest in boiling water for 1 minute only. Add the chive and the lemon zest to the olive mix at the end of its cooking period, when it starts to thicken. Put the mixture into a bowl, and let cool overnight.
The following day, roll out the pastry (not puff pastry)and cut 6 rectangles from it, making uniform sizes. Put sulferized paper or a silicone sheet on a baking sheet, then place the tart rectangles on that. Cook these blind for 10 minutes at 350°F Remove them and let them cool.
Cut the artichoke hearts in half, getting rid of anything too fibrous.
Spread 1 - 2 tablespoons of the olive mix onto each tart, and place 1 - 2 artichoke halves onto the olive mix, making a nice looking arrangement.
Bake at 325F for 5 minutes.
Serve hot.