Artichoke and Crab Toasts
Ms B.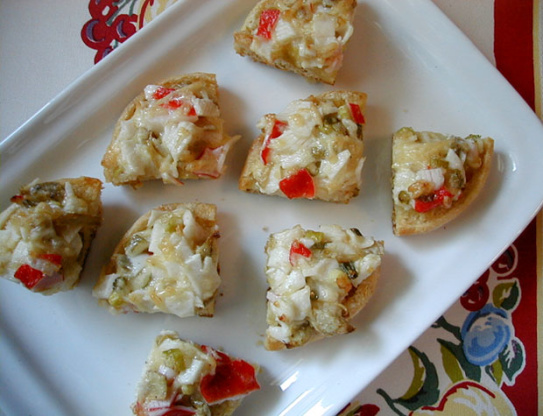 This is a very easy recipe with a lot of flavor. The english muffins can be replaced with baguettes, french bread, or other base.

This is a great recipe - thanks for posting. My mom used to make a very similar one when we were kids. We called them "crabbies" & they were always a favorite. I'm glad to get the recipe & I've made them three times this holiday season. Like some of the other reviewers, to me it is much better if you cut way, way back on the artichokes - I think 1/4 jar is plenty. I also used less mayo & cheese to make the crab stand out more. One more thought - after baking for 12 min., put them under the broiler for a minute or so to make them browned & bubbly.
Preheat oven to 375F degrees.
Chop artichokes.
Combine arichokes with crab, mayonnaise, onions, and cheese.
Split each English muffin in half, and spread the mixture on the cut side of the split muffins.
Cut each of the muffin halves into quarters; arrange the muffin triangles on a baking sheet.
Bake for 12 minutes, or until golden brown.
Serve hot.
(The flavor is good at room temp, also.).