Arroz Verde (Mexican Green Rice)
teresas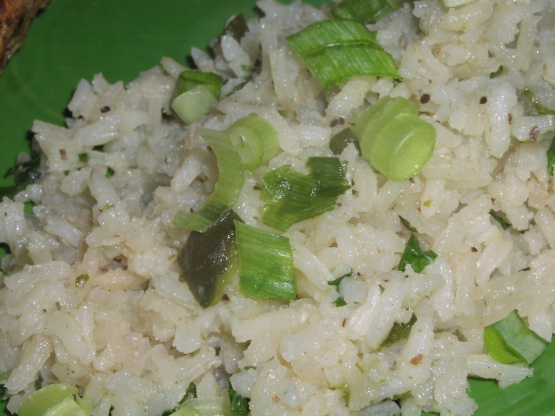 Original recipes comes from The Complete Book of Mexican Cooking, however I've made some adjustments (of course)! I prefer the roasted chiles but fresh chopped chiles can be used. If a smooth texture rice is preferred see note at bottom of instructions.

I used 1 can of Rotel tomatoes, drained, in place of the chilies, for a milder flavors to suit all of us here. The tomatoes were an added bonus in this recipe and we really loved it on the side with burritos and tacos. Gracious!
Heat the oil in a large saucepan and add garlic and rice; saute for approximately 3 mnutes or until golden.
To pot add broth, peppers, onions, cumin, salt, pepper.
Cover; bring to a boil, then reduce heat and cook until tender and all the liquid has absorbed (approximately 20 minutes).
Stir in cilantro and garnish with chopped green onions.
NOTE: If a smooth texture is preferred, puree the onion and chilis in a little broth before adding to the pot.