jrusk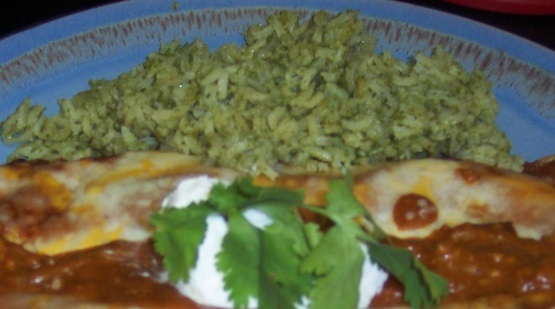 This is an authentic Mexican rice dish from Jim Peyton, and despite it's somewhat odd sounding ingredients, it is fantastic!!! Great with any meat dish. I sometimes make this for myself for dinner, with nothing but the rice and a glass of white wine to enjoy with it. Leftovers heat up well, too.

This is the best rice dish I have ever put in my mouth. It is different from anything I have ever eaten. The flavors are wonderful. I will now be serving this for guests (as well as family) from now on because it is so impressive. Thank you.
Put the cilantro, spinach and chicken stock in a blender and blend until finely pureed.
Add the milk and salt and blend just until everything is blended.
Set aside.
In a 3 qt saucepan with a good lid, heat the olive oil and butter.
When the butter is melted, add the rice and saute until it just begins to brown (3 minutes).
Add the onion and garlic and cook another minute, stirring.
Add the contents of the blender, stir well, bring the mixture to a boil, then put the lid on and turn the heat to low.
Allow to cook at least 20 minutes.
Stir the rice very carefully with a fork, then cover and let it cook another 5 minutes.
Turn off the heat and let the rice steam, covered, for about 10 minutes before serving.