Rita1652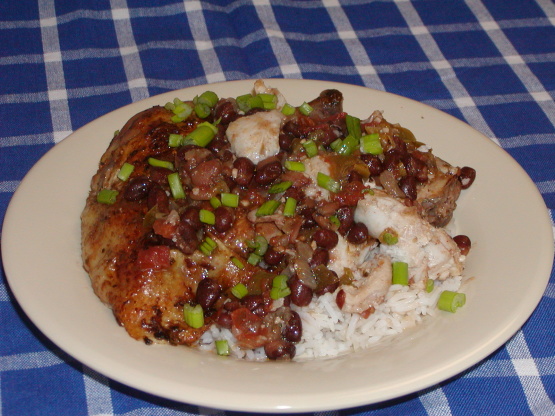 I made this recipe myself, specifically for the contest. I tried it out at home, and it was delicious! The spices were good, and it was very filling. The rest of my family loved it, too!

This recipe makes a mild chicken stew that was excellent served over rice. I served jalapenos, green onions, avacado slices, sour cream & black olives alongside to top it with. I was confused by the amount of black beans listed in the ingredient list & didn't know if they were dried or canned. I prepared a separate pot of black beans and added 1 cup to the stew. I also seared the chicken thighs before proceeding with the recipe. I deboned the thighs at the end and then added the shredded chicken back into the pot. As mentioned, the stew is very mild and I would probably add a little cumin to it when preparing again to add a little more Mexican flavor. Thanks for sharing your recipe! Great job!
In a large frying pan, fry onion until transparent.
Add tomatoes, chicken broth, and chicken thighs.
Cover, then cook on medium high for 10 minutes.
Stir in garlic powder, basil leaves, and paprika.
Add bell pepper, beans, lemon juice, and green chili peppers, then simmer on medium-low for forty minutes.
Chop tilapia into bite-sized pieces, and then add tilapia to pot.
Cook for ten minutes, then spoon over rice.
Serve warm.