Arroz Con Salchichas (Vienna Sausages)
bergren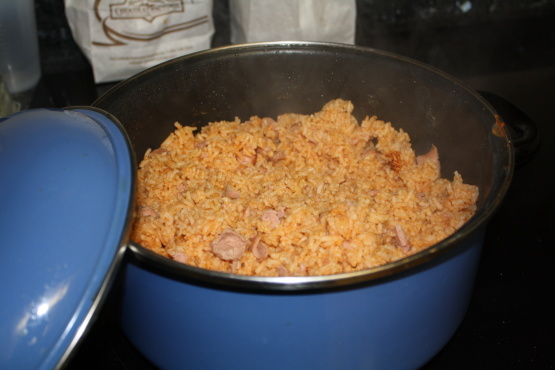 Make this recipe along with red beans and some sweet plantains on the side. Yuuuuummm! From elboricua.com

10 stars, not 5! this is so good. i added a packet of dry onion soup mix to the ingredients. we love this. thanks for this amazing recipe
In a 5qt pot,add sofrito, sazón, vienna sausages, tomato sauce, salt, canola oil, olives and alcaparras.
Rinse the rice well and add to the other ingredients.
Add the hot water and liquid of the sausages and water to equal the amount of water specified. Turn heat up to medium high and stir well.
When it starts boiling, lower the heat to medium, and let the rice completely dry out. By now, most of the liquid will be absorbed and you will not see the edges around the rice bubbling.
Stir the rice with a large spoon, bringing the rice at the bottom to the top.
Cover the pot to a tight fit with the lid and aluminum foil and reduce the heat to low.
After about 20 minutes, uncover carefully
and turn the rice again using the large spoon.
Cover the pot again with and cook for another 10 minutes.
Remove the pot and set it on a cool burner. DO NOT leave it on a hot burner or it will continue to cook.
Let stand for about 5 minutes.