Arroz Con Pollo (Mccall's Cooking School)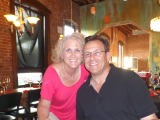 Classic Spanish casserole of chicken, vegetables and saffron rice.
Make and share this Arroz Con Pollo (Mccall's Cooking School) recipe from Food.com.
Directions
Wash chicken pieces under cold running water; drain well. Wipe dry with paper towels so fat won't spatter when chicken is browning. Combine oregano, pepper and 2 tsp salt. Sprinkle chicken all over with mixture; rub in well. Let stand 10 minutes.
In heavy, 6-quart round or oval Dutch oven, heat olive oil over medium heat. Brown chicken a third at a time, until golden-brown all over, using tongs to turn chicken-this takes about 30 minutes in all. Remove chicken as it browns. Preheat oven to 350°F.
Wash green pepper; cut into quarters; remove ribs and seeds; cut into lengthwise strips, 1/4 inch wide. To drippings in Dutch oven, add onion, garlic, green pepper, bay leaf and red pepper; saute, stirring, over medium heat until onion is tender-5 minutes.
Using back of spoon, crush saffron threads on small piece of foil, or use a mortar and pestle. Add with 2 tsp salt and the rice to Dutch oven; cook, stirring, until rice is lightly browned-about 10 minutes. Add undrained tomatoes and chicken broth.
Arrange browned chicken pieces over rice mixture. Bring just to boiling, uncovered. Bake in oven, tightly covered, 1 hour. Remove from oven; add 1/2 cup water. Do not stir. Sprinkle peas and olives over top. Drain pimientos; cut into 1/4-inch strips.
Arrange pimiento strips attractively over top. Bake, covered, 20 minutes longer, or until chicken is tender, peas are cooked and rice has absorbed all liquid. Remove from oven. Let stand, covered, 10 minutes. Serve right from Dutch oven. Serves 6.