Arroz Con Pollo (Dominican Style Chicken & Rice)
Tito H.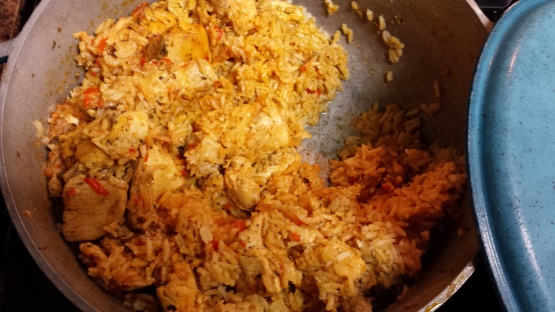 One pot--so simple! My MIL, who is from the Dominican Republic, has ALWAYS made this. Every since the very first time she made it for me, it has been my FAVORITE dish. Even my kids, ages 12 & 5 and are incredibly picky, will eat this meal. We usually make it with a side salad and fried Plantains like in Patacones Ticos (Costa Rican Fried Plantains). Oh and the house smells incredible while this is cooking!
Easy and delicious! Tweaked the recipe by adding green olives, and jalepeños instead of green peppers for an extra kick. Also, mixed the chicken with all of the ingredients (except rice and water) and let marinate in the fridge for an hour (longer would be better) and it helped the chicken retain seasoning and flavor. Also used pre boiled brown rice.
Throw ALL the ingredients "EXCEPT" Rice & Water into a large pot.
Cook over medium heat, stirring every so often.
When liquid starts to diminish add the rice & water.
Stir and bring to a boil.
Reduce heat, cover & simmer for approximately 20 minutes. Enjoy! :).