Nif_H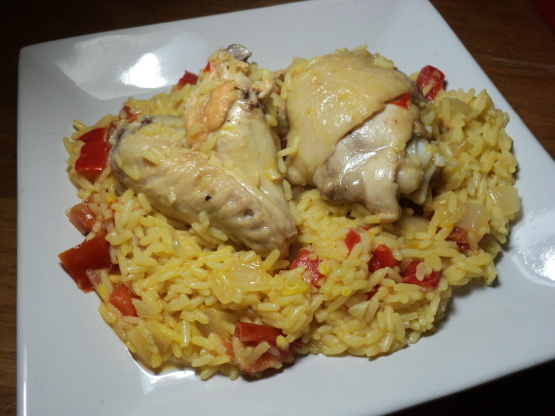 Posted for ZWT7- Central and South America. This is a recipe from Panama that I found on the internet.

Top Review by Nif_H
We enjoyed this dish for dinner tonight. I browned the chicken first but I think next time I would skin the chicken. I would also use chicken broth instead of water - it just needs a bit of a boost of flavour. The colour from the saffron is very nice with the reds of the pepper and tomato. Made for my teammate on the Golden Gourmets for ZWT7. Thanks CJAY! :)
Fry chopped onions, sweet pepper, tomato and garlic in a little bit of olive oil.
Add water, a pinch of saffron or a pinch of bijol, chicken, and washed rice.
Cover and cook over a low flame until done, stirring once or twice during cooking.
This will take about 50 minutes- make sure chicken and rice are done.