JustJanS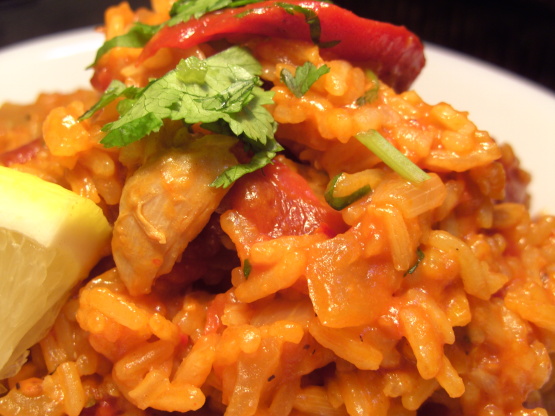 taste.com something is didn't want to lose

We enjoyed this a lot thanks Sonya. I loved that it was made with pantry staples and was so simple to put together. We had to add more liquid (about 1/2 cup extra) and found that a squeeze of lemon at the table and a grinding of salt and pepper really brought the flavours out-the salt seemed to really make the saffron more noticable. I think some olives or canned artichokes (I've had them in another Arroz Con Pollo) would be quite good additions. Like the other reviewer, I used fresh corainder rather than parsley as that's what I had on hand.
Heat the oil in a large saucepan over medium-high heat. Add the onion and garlic and cook, stirring, for 3-4 minutes or until onion softens. Add the chicken and cook, stirring occasionally, for 3-4 minutes or until brown all over. Add the cumin, paprika and saffron and cook, stirring, for 1 minute or until aromatic. Add the rice, tomatoes and chicken stock, and bring to the boil. Reduce heat to low and cook, covered, for 15 minutes or until chicken and rice are tender.
Add the tomato paste, peppers and parsley, and cook, stirring, for 2-3 minutes or until heated through. Remove from heat. Divide the arroz con pollo among serving bowls and serve immediately.